CAST LIST HERE (updated as of 22 June 2018)
Click on the link above (cast list here) and scroll to your name. Please notify us at This email address is being protected from spambots. You need JavaScript enabled to view it. if any changes need to be made as these will appear on the DVD in this format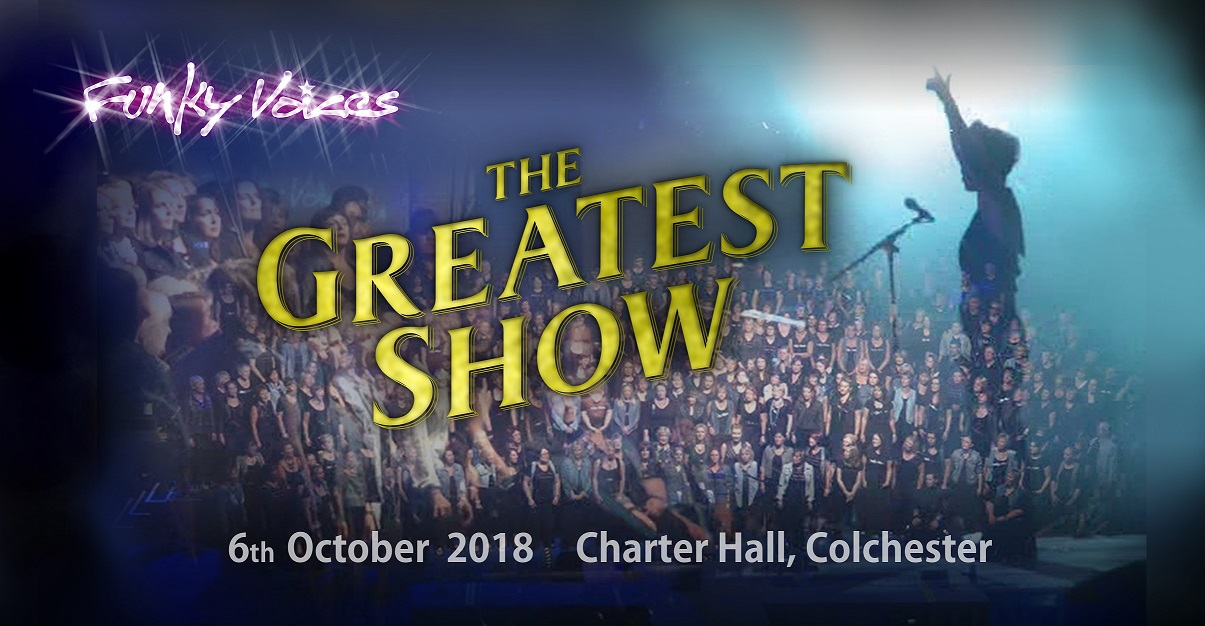 This year, we will be holding an arena-style production...
"Funky Voices - The Greatest Show!"
2011 The Brentwood Centre was the host of our first arena show which was amazing on so many levels... A cast of 400 on an enormous bespoke tiered stage, 2 satelite stages for soloists and guest choirs, full light show, pyrotechnics and complete front of house sound... all uniting to create an unforgettable experience show for both Funky Voices singers and over 1500 audience.
7 years later and it's way time to do it again... this time even bigger and better. The Charter Hall is one of the only arenas in Essex large enough to hold our full capacity and audience. Arenas are a blank canvas and all lighting, special effects, audio equipment, pyrotechnics, staging and much more has to be sourced in, so you can imagine the amount of organising and work that has to go into putting this together... which makes it even more exciting! I love a project.
Obviously space for performers and audience is limited and available on a first come first served basis. Audience tickets will be available soon via Charter Hall or the Mercury Theatre box offices, we will put a link and details here as soon as they become live.
There will be "costumes" as this completely adds to the visual experience for the audience too... nothing too wacky, just certain colours or themes that you can gather yourselves.
There will be guest artists performing alongside Funky Voices... sshhh secrets at the moment until confirmed.
This major event will be in place of Recording Day this year, but we will be recording this show, in DVD format! each performer will receive a DVD of the show. Our regular "Winter Concerts" will not be going ahead this year as it will only be 5 weeks following the show and therefore the set list will be the same and too much to expect audience to come out in support again so quickly.
We know you'll all be buzzing so much after the show... so we've arranged for a cast after party within Charter Hall (with a bar) for celebrations! each performer has exclusive entrance to "The Greatest Show After Party" and glass of bubbly to celebrate.
We'll be organising coaches nearer the time to and from the venue for ease, to arrive roughly 10am and leave midnight, bookable via this page.
There is no plan to hold any extra rehearsals apart from our regular weekly rehearsals you all go to anyway.
The page will be updated regularly with information for you all as we go along
Where:
Charter Hall - Colchester Leisure World, Colchester CO1 1YH
When:
Saturday October 6th
10am: dress/technical rehearsals
7.30pm: Show performance
10.30pm – midnight: cast after party
Performers show fee, £38 (inc vat) which also includes:
Show performance
Access to downloadable photographs from the whole day and night - available post show via your unique link and password.
DVD of "Funky Voices - The Greatest Show" with your name in the cast list - available post show at the "End of Year Party" (December 16th), where extra copies of the DVD will also be available to purchase.
Exclusive entrance to "The Greatest Show Cast After Party" and glass of bubbly
Booking fee
---
Clips from "The Show 2011" with guest choirs, vocal soloists, guitar soloist, MEN SECTION!
To get us in the mood...
THE SHOW 2011 - Brentwood Arena
THE SHOW 2010 - SOUTHEND
THE SHOW 2009 - COLCHESTER